Sooner or later, children will need to use public transport on their own — it is up to you to ensure they are ready for the experience. Here are some safeguards we can establish to keep them safe on the road. 
Road and transit safety is not just a transport challenge. When we think of public spaces (in this case, public transport) as facilitators of mobility for children, transit safety also becomes a child rights and child safety issue, with ramifications for health, wellbeing, education, participation rights, and even economic growth. 
In many countries, safe transit to schools and back home for children is an important determinant of access to education and opportunities. If children can safely commute, they are likelier to stay in school, secure a decent education, keep up their attendance and eventually chase better opportunities. But when children and young people are travelling on their own, they are also left relatively vulnerable. And this happens irrespective of the country they are in.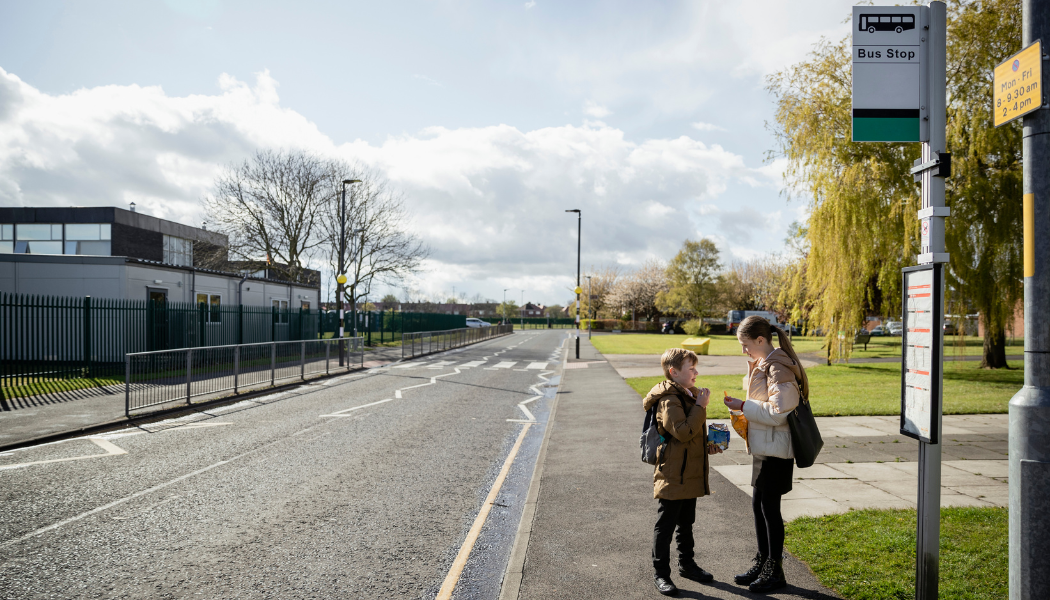 In the UK, specifically, concerns have been raised, time and again, about how independent commute "leaves them (children and young people) vulnerable to people who want to exploit them for sexual and criminal purposes." Children are likely to use the same travel or commute routes and board and deboard at the same time each day, and as such, these patterns can also make them vulnerable. Interacting with strangers on public transport should be discouraged. Yet, even the most careful person cannot help it if they are being noticed by other regular commuters. The vulnerability amplifies for children who might already be vulnerable due to their geographic location, housing or living situation, among other factors.
Another dimension of children's safety is the external road safety measures. UNICEF reports that road traffic injuries are among the leading causes of death for children and adolescents aged 5–19 years. With nearly 220,000 deaths reported in the 0-19 years age bracket due to road traffic accidents, we have the power to prevent 600 deaths each day. 
Look Closer for Signs
The best way to prevent children from falling into harmful situations is by identifying potential vulnerabilities beforehand. Knowing where children might be closer to harm is the first step to keeping them from those places of interaction. 
In this respect, the Look Closer campaign can provide a helpful framework. 
The first part is identifying when a young person is extremely vulnerable, for example, if they are travelling alone in an unfriendly area or at an unfriendly hour if they seem distressed or lost, or if it seems like they are being ordered by an unfamiliar older person. 
Tangible threats should be continually monitored: County lines (i.e. the manipulation and exploitation of children by strangers forcing them into drug dealing), for instance, are far more common than you think. Reportedly, 84% of parents are worried about county lines in their area. Public transport networks are used by vulnerable young people exposed to the risk of sexual exploitation, criminal exploitation and trafficking.
Reporting mechanism: If you suspect that a young person is in danger, reach out to one of the bodies for help. (See the last section on Reporting Suspected Exploitation)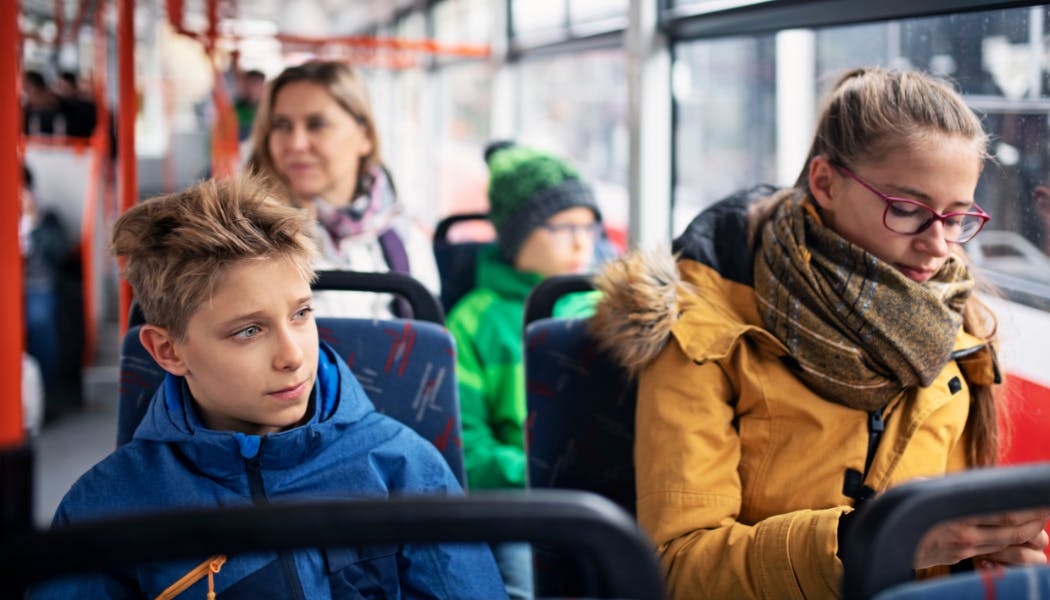 Preparing Children to Use Public Transit Alone
Fundamental Safety Principles:
Go over the basics of safe commuting with your children; they should avoid talking to strangers when travelling alone, especially not dispensing any personal details. Communicate with your child(ren) regularly so they can share if they are ever approached by a stranger. Help your child identify safety cues: sitting near families with children, using closed spaces life lifts or deserted routes only when they are accompanied by friends, and asking only proper authorities for help (like a police officer or someone running a business establishment in the vicinity) and not look lost in front of strangers. 
Prepare them for independence:
If your children have been accompanied by an adult previously, then start to ease them into independent commutes. Start practising with them by learning the route, and navigating alternate routes, then let them give you directions, and only let them do it on their own when they are fully confident. Rehearse the route with them as much as possible…their confidence in navigation can be game-changing for their road safety instincts. 
You should be reachable:
It is also crucial that your children learn their address and telephone number by heart in case of emergencies. They should also have you listed as an emergency contact and set it up on speed dial on their phone if they carry one. By the time you let them go on their own, they should also be adept at tracing their home address and school address on the map or through alternate routes. 
A buddy system can help:
If another child is also learning to take public transit, it is a great idea to have the kids travel together. Being in a socially familiar space naturally enhances their confidence.
Road safety measures:
Criminal exploitation is not the only looming threat. When your child first begins commuting on their own, road safety is also a major factor.  The first exercise is crossing the road, traffic island, zebra crossing, or a footbridge as a pedestrian. Children should be familiarised with and follow the Green Cross Code, under which they stop, look, listen and think before crossing the road. Another important rule is to keep gadgets away when walking. This includes not just mobile phones but also talking off headphones when they are crossing the road. 
Reporting Suspected Exploitation
If your child or anyone you know is in danger, or you have reason to believe they are vulnerable, then get support. 
In case of emergencies:
Don't be afraid to call the police in case of county lines. Just make sure you report it when you are in a safe surrounding yourself. You can reach the police on either 999 or online here. 
Transport Police:
If a threat arises while you are in a mode of public transport, text the British Transport Police on 61016 and share information about the travel route, appearance and behaviour of the child and the suspect, if any. 
Non-urgent reporting
If you have concerns about a child's safety and welfare, you can contact your local social care department or the independent charity Crimestoppers on 08000 555 111 or the NSPCC's helpline on 0808 800 5000.
Children are best protected when they are prepared. Do not keep them from the realities of life, but empower them with information on identifying signs of danger. And let them know that help is available if they ever feel unsafe.